When I made my retreat last November, a line I carried home within me was from Psalm 45:1: "My heart overflows with a noble theme as I sing my ode to the King."
How amazing to me it was that last night as part of the International Festival of The Arts, the world renowned King's Singers from the UK sang three of my poems. This was a work commissioned for the Festival and composed by Leonie Holmes, a noted New Zealand composer (pictured above, left). The choir of Voices NZ formed the "backing group" for this work, and also for some of the other songs of the King's Singers. This was introduced as the World Premiere of Leonie's composition, called This Watershed Time.
One of the King's Singers, Jonathan Howard, introduced the piece and truly prayed the Blessing poem (from Firesong p 61) before they sang it. So the entire piece was held in a prayerful atmosphere it seemed. He also noted how wonderful it was to sing music and words written in Aotearoa New Zealand, giving them back to our own land. This is the second commissioned work in which Leonie Holmes has written music for my poems.
It was indeed a night of "the Word made flesh" and I feel overwhelmed with gratitude and joy.
Here below is a link to a review from Radio New Zealand and some thoughts on the work by Jonathan Howard, the King's Singers' bass, via his blog:
https://podcast.radionz.co.nz/downloads/upbt/upbt-20180312-1330-review_the_kings_singers-192.mp3
https://www.kingssingers.com/wellington-new-zealand/?filtered=2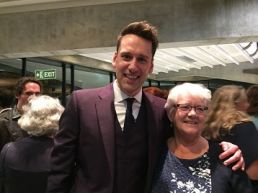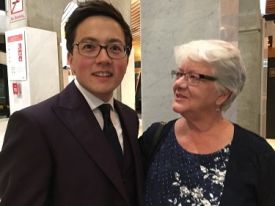 Jonathan Howard – Bass Julian Gregory – Tenor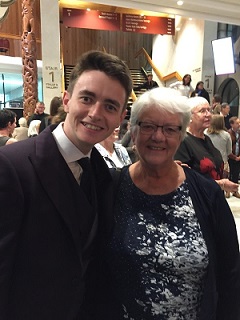 Patrick Dunachie – Countertenor