We stand in Solidarity with Ukraine and all her people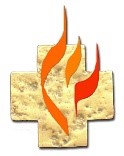 It is with horror and distress that we are witnessing another war. Hatred and greed have sprung once again from human hearts through the invasion of the sovereign country of Ukraine.
We pray fervently for the conversion of heart of all aggressors,
And for those who seek justice and goodness to never falter,
For help for those suffering the violence and devastation of their Land,
And, holding onto hope in defiance of evil,
We pray for peace upon us all.