International Cenacle Congregational Mission Statement:
—We work for the transformation of the world by awakening and deepening faith with and for the people of our times.—
Ways of belonging to the Cenacle Family:
Cenacle Sisters live a vowed life in a community of faith, sharing a common vision and mission. Through the ministry of retreats, spiritual direction and varied ways of searching for the Sacred, we companion people on their faith journey in the midst of life.
Cenacle Companions are women and men committed to sharing the vision, mission and spirituality of the Cenacle.
We invite those interested in either of these ways of belonging to contact:
Cenacle, 2 Olliver Grove,
Waikanae Beach 5036,
Kapiti Coast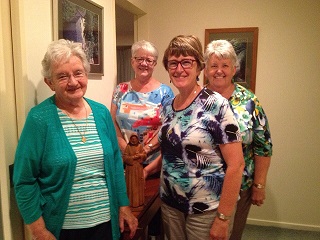 Sisters Kathleen Ryan, Anne Powell, Clare O'Connor and Mary Jackson Kay