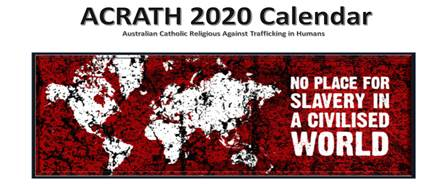 As you may know, the Cenacle is involved and committed to ending of human trafficking in New Zealand and in the world. The Cenacle is a member of "Aotearoa New Zealand Religious Against Trafficking of Humans" (ANZRATH), which is an organisation set up to raise awareness of the very real and persistent human trafficking and slavery industry in this world – raising awareness and seeking to combat this industry altogether. See here for our ANZRATH corner under the Transforming the World tab.
The Austalian organisation, ACRATH, have put out another of their great calendars. They say:
The 2020 ACRATH Calendar is now available for purchase. The ACRATH calendar, first published in 2015, creates awareness of human trafficking, globally and here in Australia. We hope this 2020 edition continues to:
Promote awareness of human trafficking issues
Promote ACRATH and its work
Showcase some of the anti-trafficking work of a range of organisations worldwide and within Australia
Fundraise for ACRATH's work
Provide some income for a project in South East Asia supporting victims of human trafficking.
The Cost of the Calendar is $10 (GST Free).
Click here to read all about it and buy a copy for your home and office.