Cenacle Retreat in Daily Life – 2019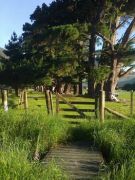 "I invite all Christians, everywhere, at this very moment, to a renewed personal encounter letting him encounter them; I ask all of you to do this unfailingly each day." —Pope Francis –The Joy of the Gospel
The Cenacle Retreat in Daily Life Team gathers at the Cenacle in Waikanae at the end of November to reflect on their ministry of the year and to prepare for the next. We are aware of the many uncertainties and vulnerabilities which people face: earthquakes, floods and their consequences regarding buildings, dislocation of communities, jobs, insurance costs, health concerns and limitations, social and spiritual loss and global uncertainties.
As we consider the new year from the perspective of the Retreats in Daily Life, we feel gratitude for the participants who commit themselves to a week of guided prayer. As one person expressed it "wrinkles fell away", there was the "thrill of discovering the person of Jesus in a new way", and for others, issues resolved by praying the Gospel in the midst of everyday life. "I was aware of changes in myself as I went to work as the retreat progressed; I became less protective of my own time and more generous to others at my work". These retreats which are an adaption of the Spiritual Exercises of St Ignatius Loyola continue to be a powerful experience in people's lives.
It is a privilege for the Team to enter into the faith community of a parish, be warmly welcomed there, and accompany people in a retreat.
Events in 2019 include:
Ohariu Parish Prayerways for Lent Sunday 10 March 2019, 7 pm–8.30 pm

Westport Parish (South Island) Day of Prayer Sunday 19 May 2019

Poetry and Spirituality Day at Home of Compassion, Island Bay with Anne Powell rc Saturday 25 May 2019

Our Lady of Kapiti Parish Retreat in Daily Life is Sunday 9 June – Friday 14 June 2019

Otaki Parish Retreat: 18–23 August

St Theresa's Parish, Plimmerton Retreat in Daily Life is Sunday 8 September – Friday 13 September 2019

Our Lady of Kapiti Parish Retreat follow up: Sunday 22 September, 2–4 pm
Members of the Team are: Merle Hiscock RNDM, Graham Millar, Fr Alan Roberts, Cenacle Companions Mrs Ronnie Parton and Mrs Merle Whiteman and Cenacle Sisters Mary J Kay, Clare O'Connor and Anne Powell.
Contact Sisters Clare O'Connor or Anne Powell for further information: