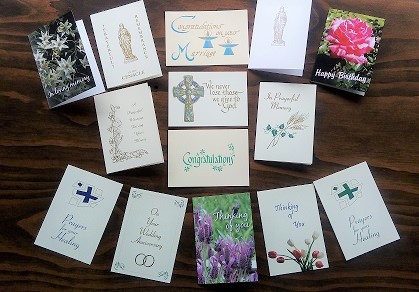 Through the course of our daily lives, we all have periods of happiness and celebration and sorrow and loss. Prayer is a wonderful thing to give – it provides the comfort and support to your family and friends that you are with them in their lives, sharing their joys and sorrows and there is the great grace that prayer bestows.
One of the particular ministries of the Cenacle is prayer for people of all faiths and none. St Therese Couderc, Foundress of the Cenacle Sisters, said "My heart embraces the world." Prayer is one way that the Cenacle community responds to this founding inspiration.

Those enrolled in the Cenacle Apostolate of Prayer are remembered in Masses every month and in the prayer of the Cenacle sisters, for the period of enrolment (one year or perpetually). Not only does the person for whom the card is intended receive the grace of prayer, but you, the sender, are also remembered in the prayers of the Cenacle sisters.
The Cenacle provides cards for all intentions, for instance wedding anniversaries, birthdays, illness, recent loss and remembrance. A beautiful card will be sent, in your name, to the person enrolled.
Please click on the link below to access the form and fill out the details as appropriate. You can either post the form to us at:
The Cenacle
2 Olliver Grove,
Waikanae Beach 5036
New Zealand
Or scan the form and email to us on: office@cenacle.org.nz
Contributions to this ministry (see the form for details) support the apostolic work of the Cenacle. If you do not require a card, no payment is necessary to ask our prayer support for any intention.